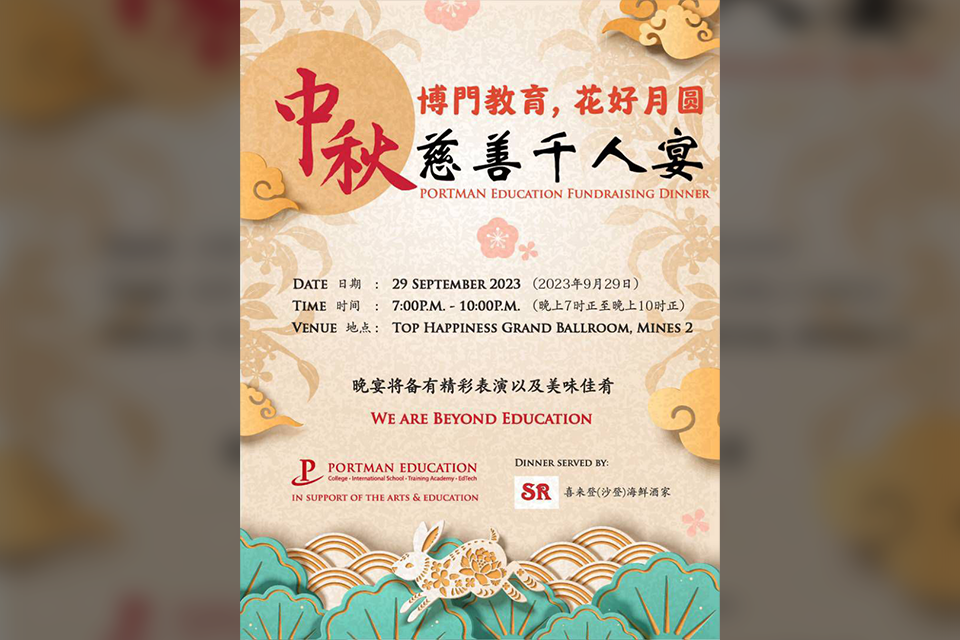 About The Event
🌟 Join us at the PORTMAN Education Fundraising Dinner 2023 and be a part of an extraordinary event that will touch lives, empower dreams, and transform futures! 🌟
Dear business owners, entrepreneurs, family, and friends,
Imagine a world where every young and dynamic student, regardless of their background, has the opportunity to receive the education they deserve. At PORTMAN Education Group, with over 20 years of experience in the education industry, we have witnessed countless individuals filled with potential who could achieve greatness if given the chance. Sadly, due to their underprivileged circumstances, they are unable to afford tertiary education, forcing them to enter the workforce prematurely, even before completing secondary school.
But together, we can change this narrative. We invite you to lend your support to our 【PORTMAN Education Fundraising Dinner 2023】, a remarkable event dedicated to assisting Malaysian students in pursuing their dreams of higher education. Our annual dinner, organized by PORTMAN students since 2016, is driven by a passionate desire to Make A Difference in the world.
When you attend the 【PORTMAN Education Fundraising Dinner】, prepare yourself for an unforgettable night filled with unique performances presented by our talented PORTMAN students. Our students will delight you with their skills, leaving you in awe of their talents. More than just a dinner, this event is an opportunity to experience the transformative power of PORTMAN Education firsthand.
We have set an ambitious goal of raising RM 500,000 to support underprivileged students in their educational pursuits. Alongside the dinner, we will be hosting the PORTMAN Education Charity Auction, where you can contribute to this noble cause while enjoying a night of excitement and entertainment. Our students have poured their hearts and souls into organizing every aspect of this event, from pre-event planning to performance preparation. During the dinner, you will be served by our PORTMAN Students, and even the post-event activities have been carefully considered. Witness their dedication and passion as they work tirelessly to make a meaningful impact because they understand the value of education at PORTMAN Education Group.
🗓️ Date: 29th September 2023
⌚️ Time: 7:00 PM – 10:00 PM
📍 Venue: Banquet Hall, Hee Lai Ton Restaurant (Mines 2)
🍽️ Dinner Served by Hee Lai Ton Restaurant (喜来登海鲜酒家)
If you believe in the transformative power of education for students and our community, we urge you to take action today. Contact Gym at +6016-277 3968 to secure your place at the PORTMAN Education Fundraising Dinner 2023 and contribute to building a brighter future for these deserving students.
-Make a difference by making lives better-
#PORTMANCollege #portmaneducationgroup #fundraisingdinner #2023