PORTMAN Experience
June 3, 2023
2023-06-08 19:26
PORTMAN Experience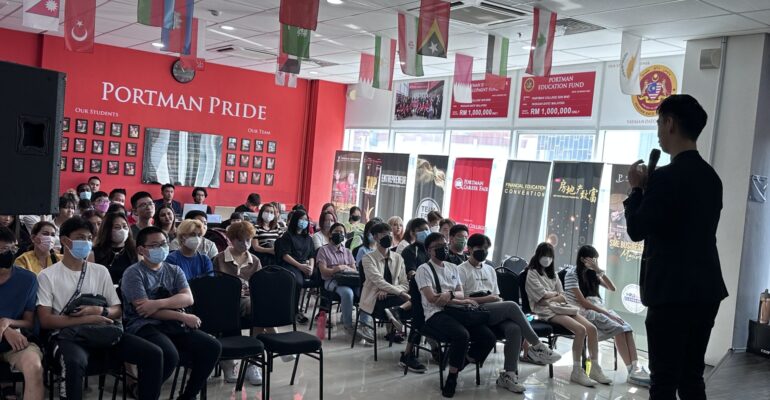 PORTMAN Experience
🎉 Thank you to everyone who made our PORTMAN EXPERIENCE event an absolute hit! 🌟✨ We're still riding the waves of excitement and gratitude from the incredible turnout and overwhelming support at this full house event organized entirely by our talented students.
📣 We want to give a massive shoutout and express our deepest appreciation to our Year 1 students from the Customer Service, Risk Management, Principle of Management, and Principle of Business Organization classes. Your passion, dedication, and hard work brought this event to life, showcasing firsthand how PORTMAN Education empowers students through hands-on practical learning.
🎊 From start to finish, the energy in the room was electric as our vibrant audience immersed themselves in a day filled with inspiration, learning, and entertainment. What made this event even more special was witnessing our students take charge, applying their knowledge and skills acquired through practical learning, from conceptualization to execution, to create an unforgettable experience for everyone involved.
✨ At PORTMAN College, we believe in providing our students with the opportunity to learn by doing. Through practical learning, our students gain real-world experience, developing essential skills and confidence as they tackle projects from start to end. The success of the PORTMAN EXPERIENCE event is a testament to the effectiveness of this approach.
💙 We extend our heartfelt gratitude to all those who joined us, making the event a resounding success. Your presence and support not only fueled our students' passion but also validated the value of practical learning in shaping exceptional individuals ready to thrive in their chosen fields.
🌟 Stay tuned for more exciting events and updates from PORTMAN College as we continue to deliver innovative, hands-on education that prepares students to excel in the real world. Let's continue to unlock potential, pursue excellence, and shape a remarkable future together! 🚀🎓